[the handshake]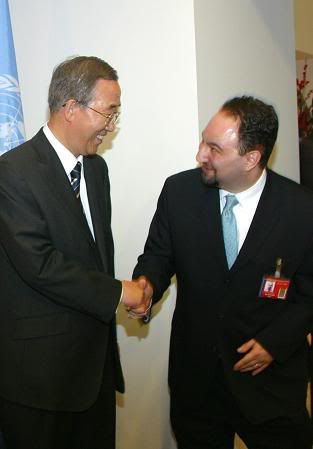 Ban Ki-moon is between jobs. He gave up his post as Minister of Foreign Affairs and Trade of the Republic of Korea some weeks ago, and though he took the oath of office yesterday, Kofi Annan gets to keep his job until the end of the year.
But this is not the sort of hiatus during which one gets to relax, sleep in and maybe hit a few museums. In celebration of the swearing-in, the South Korean Mission to the UN threw a party for Ban, and his job was to stand in one place, next to his wife in her fancy hanbok and to Ambassador Choi, shaking hands and smiling pleasantly while the rest of us gorged ourselves on hors d'oeuvres.
There had been fears prior to the event that it would turn into a mad crush, but the crowd was smaller than predicted 7mdash; maybe five or six hundred over the course of the evening — and by relegating the snacks to corner tables rather than center buffets and opening up the second floor, the Mission staff managed to keep things circulating fairly well.
Early on, in fact, we had the second floor pretty much to ourselves, completed with our own bar, so we wolfed down sushi and cheese puffs and chicken on skewers and sipped our Stolis and Johnny Walker Blacks while we had the chance. Young and I hung out by the balcony that overlooked the receiving line, trying and mostly failing to spot celebrities. (Guests included numerous UN and diplomatic bigwigs, but do you know what
Jean-Marie Guéhenno
looks like? Me neither.)
I made a few forays down onto the crowded first floor, weaving through the dense crowd to see what I could see. The average age was older than at most of our receptions, which I took to mean that this was a higher-level group than usual. I fell into a couple of odd conversations, including one with a woman in a shiny sweater and a big fat diamond ring who went on about how influential her husband the plastics magnate was, how many important people he'd met, how many universities he funds, and how fine a school their daughter was attending to earn her Ph.D.
Back upstairs, I found myself telling my Korea story — how we ended up there, what we did, where we lived — to a Korean gentleman who informed me that he worked for the Foreign Ministry in Seoul. When I got the chance to ask him what exactly he did there, he said that he had just finished a term as vice minister. "Vice minister of what?" I asked, confusing the title with deputy minister, which usually comes with a specific purview.
"Of the Ministry!" he said. He went on to explain that there were two vice ministers and that they took on Minister Ban's official responsibilities when he was traveling. So here I was, talking to the ex-number-three man in the Foreign Ministry about my little language institute in Anyang. I quickly replayed our conversation in my head and was relieved to note that I hadn't said anything embarrassing or controversial.
At another point, I found myself cornered by a reporter for Boomberg News who began pressing me for information on who
really
writes the speeches, and I was careful to say that the role of the speechwriters is to polish and render into better English the content provided by the diplomats, whom I described as knowledgeable and highly educated.
As the party began to wind down and the receiving line dwindled, Mr. Ahn, Chief of Operations for the Mission and the man who wields the fancy digital camera at these sorts of events, waved at me to go shake hands with Mr. Ban. "Are you sure it's okay?" I asked, and Mr. Ahn made one of his inimitable faces, this one seeming to say, Yes, it's okay, why not, and you shouldn't miss this chance, and don't be a wuss. And so I went and shook hands, feeling awkward and grinning stupidly. "
축하합니다
(Congratulations)," I told him. Ambassador Choi told him in Korean that I was part of the mission staff, and Ban turned his grandfatherly smile on me, with those friendly eyes behind the ever-present glasses. Ban may not be the most telegenic man in the world, but in person he gives off considerable personal warmth. (Click
here
,
here
and
here
for the full-sized pictures.)
And then it was over. I moved quickly out of the way, ignoring Mrs. Ban completely, which may or may not have been a faux pas. In a little while Mr. Ban and his retinue left, and there was a giddiness among the Mission staff still standing around. After weeks of increasingly panicked preparation, they had survived. The night had gone off without a hitch, and this was the last big event they had to plan for Ban, who will soon be off our hands.
As the secretaries who had been working the door descended on plates of leftover hors d'oeuvres, someone produced a birthday cake for Mr. Lee, a long-serving staffer whose combover is a deep black that cannot possibly still be natural. We all stood there watching the candles burn down as we waited for Mr. Lee to appear from wherever he was, and he made it just in time to blow out the stumpy remainders. Then we were handed bottles of white wine that had been opened but not used, and we made our way out into the night.
Labels: personal, south korea, united nations